8 Unique Dog Houses Your Pup Would Love
You probably pamper your puppy, but have you built a custom built dog house like some of these owners?  Check out these creative options to house your pet.  Some reuse items that would otherwise be disposed of and some are the essence of high-class living.  Either way, it is obvious we all love our four legged friends.
Computer Monitor Dog Bed
Flickr member Monica Wagner figured out a way to repurpose a computer monitor by removing the innards and adding a soft pillow.  What dog or cat wouldn't love this private box to crawl up into, and you would save it from filling up space in the dump.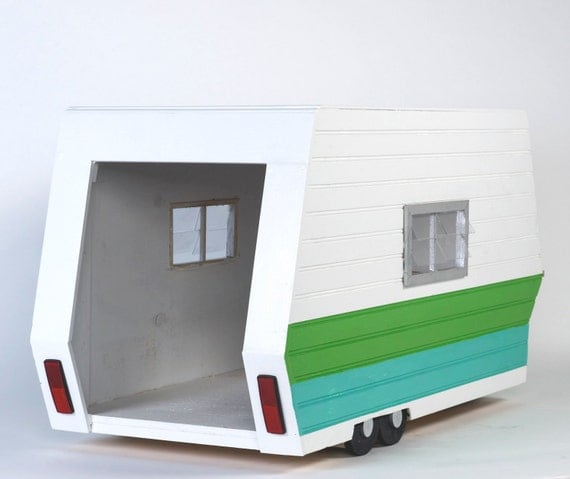 This can handle a medium sized dog up to 40 lbs.  Made of wood and finished in high-quality exterior paint. It is 20″x24″x36″.  Check it out on Etsy for $159
Best Urban Dwelling
Unfortunately, this one was for a contest in Austin a while back and is not for sale.  It was built by custom home builder Olsen Defendorf.  It won for Best Urban Dwelling, but if you have some skills, maybe you could come up with something similar for your pooch.
Savannah Dog House
Not ready to make one on your own?  The people of Precision Outback will do it for you for a mere $459.  It's constructed of solid fir with a tiled gable roof.  Won't your pup feel precious in this.
Fish Tank Dog House From Animal Planet
The folks at Animal Planet helped a veterinarian make his office a bit more comfortable for his clientele with a dog house-themed tank.  Check out its cool features on this short video.
The Dog Barrel
Another idea of using what you have available to you.  Here is something a tumbler user posted about reusing a barrel for a dog house.
Starbarks Dog House
This Artfire seller must really like Starbucks coffee, and they already sold this version, but you can contact them if you want to get yourself another one.
Dog House with a Loft
Here's the ultimate look out for your pooch, a dog house with a loft.





Comments