Where Do You Go When Facts Don't Count?
It's become blatantly obvious watching the news lately that facts don't count, but this is becoming a problem with normally reliable sources in print as well.  Matthew Chapman went into an epic twitter rant that expressed it so well that I had to share it here.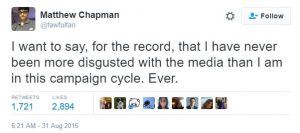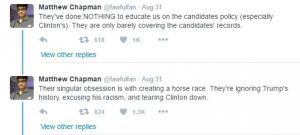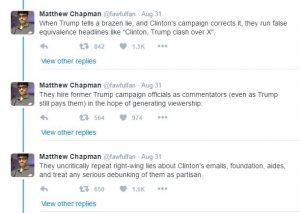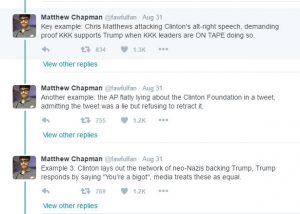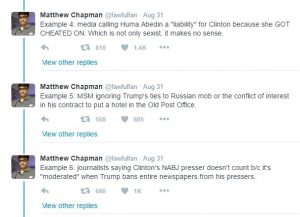 Speaking of the Clinton Foundation, have you heard the outcry and evidence of actual quid pro quo they found.  In fact, have you heard about how the IRS actually penalized the foundation for their illegal contribution to Attorney General Pam Bondi of Florida?  No?  Oh, that's because it was the Trump Foundation that did that and apparently a lot of the media doesn't care about all of the fraud and illegal activities that Trump is involved in.  That's "baked in" as I heard someone say on MSNBC.  Scandal, at this point, is only interesting if it brings Clinton down because then it makes this a horse race again.  After all, a horse race is what keeps bringing in the viewers and the readers.
Obviously, some news organizations are reporting it or I wouldn't have links, but they are few and far between. The Clinton Foundation was under scrutiny for days as people called for it to be shut down and I still don't think anything was actually found.  Now, they have an actual story and I think I've heard about 5 minutes on it all day long. Haven't heard anyone crying out for the Trump Foundation to shut down yet, have you?  Yeah, it's a mystery why Clinton has a low favorability and isn't that fond of the press.
So where do we go when our media isn't doing their job?  If you watch the news right now, pundits have full reign to say whatever they want and they are rarely corrected on the spot.  It's our job to research and find other sources to determine if what that dude said on CNN, MSNBC or FOX is full of shit.  Or that lady's story was really compelling but it turns out if you look up the details it was really one-sided.  Whatever the situation, it's clear that we are on our own and that is really scary.  Confirmation bias is very real and everyone is susceptible, yes, even me.  All I can say is please keep reading what have been trusted sources and let your voices be heard when they fall down on the job.  We have to hold them accountable and hope their peers will too.