Finally, A Good Story About A Cop
Finally, A Good Story About A Cop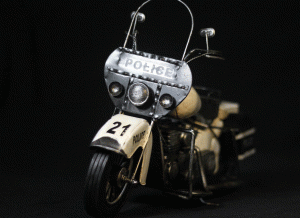 It's about time we got a good story about a cop.  I don't know about you, but I'm tired of all the crappy stories about cops these days.  I know the stories need to be told, but your psyche can only take so much if you don't hear the other side in order to balance things out once in awhile.
Finally, Officer Michael Castillo gives us a chance to feel good about cops again.  He received a call about a fight at a Target, but once he got there he found kids needing help with a bike.  "I said, 'hey, are you guys fighting?' They said, 'no we're friends.' Then I saw one of the bikes was broken, and the kid said, 'my bike is broken', so I just got down and fixed it."
Someone happened to catch him doing his good deed and posted it on Facebook.  However, he doesn't even have a Facebook account and didn't realize he had been spotted until it had already gone viral.  Here's an interview with Officier Castillo about his new found fame.  But be sure to keep scrolling after that, because we have one more good cop story for you, just to prove that he's not alone.
Here's the Facebook post that started it all: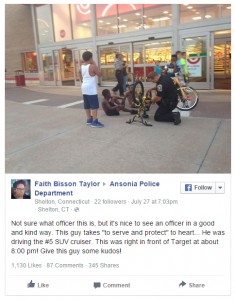 Now, we wouldn't want you to think that there's only one good police officer out there.  Turns out Sgt Erica Hay of the Ocala Police Department saw a homeless man sitting on a curb one day and decided to buy him some food and coffee.  But not only did she give him a meal, she decided to take a seat and have a meal along with him.
TiAnne Greene snapped a photo and posted it to Facebook and of course people loved it.  HuffPost picked it up and reached out to Sgt Hay for a comment, "He's just another person, just like I am. I know I enjoy company when I eat. I just sat down and ate with him," Hay told HuffPost. "He's … just like any other citizen. He's homeless, he might need our assistance more … but he needs us just like everyone else does."
Well, I don't know about you, but I feel a little bit better just reading these stories.  It's about time we recognize people for what they do right, rather than tear people down for what they screw up.  At least that's what we will do for this moment, briefly, and then it's back to the grind.
Comments