What Do You Say To Someone Who Saved Your Life?
What Do You Say To Someone Who Saved Your Life?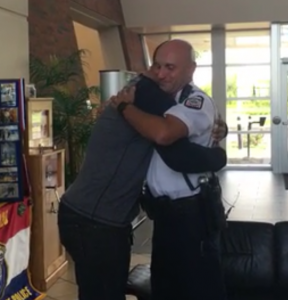 What do you say to someone who saved your life when you were 5 years old from a swimming pool?  "Do you remember me?" Jones asked Poole.  That's something you don't forget.
Christopher Jones had previously almost drowned and his heart had stopped, but today he is 24 years old thanks to Officer James Poole.  For years, Christopher has wanted to meet the man who saved his life and the person who allowed him to grow up and have a kid of his own.
"Because of you, I'm still here," Jones told Poole. "Because of you, this 5-year-old little girl right here is here." reported The Columbus Dispatch.  Get out your tissues and check out the video below.
"I never thought that something I would do 19, 20 years later would come back, and somebody would thank me," Poole, 43, said.   The men hugged and couldn't help but get teary eyed.  Law enforcement is definitely a rewarding job," Poole said to Jones. "You are a perfect example of the reward that we get out of it."
This is just the kind of story we love to cover in Good Vibes, especially during the political season when it seems like no one has anything good to say it's nice to remember that's not the normal way of life.
Comments