10 Crazy, Odd, and Unusual Hotels From Around The World

Roadside attractions, wonders of the world, and delectable travel fare are what we wish for on our trips, why shouldn't we add unusual hotels to the list.  Here's a list of some really odd places that will give your itinerary a little spice on your next trip.  Have fun!
Natura Vive Skylodge Adventure Suites
Don't look down when you stay at the Natura Vive Skylodge.  The hotel pods are located 1,300 feet above ground and are attached to the side of a mountain in Cuzco, Peru.  The guests must literally climb their rooms if they want to stay for the night.  Each pod is 24 feet long and features four bedrooms, a small dining area and even a bathroom.
Hotel Kakslauttanen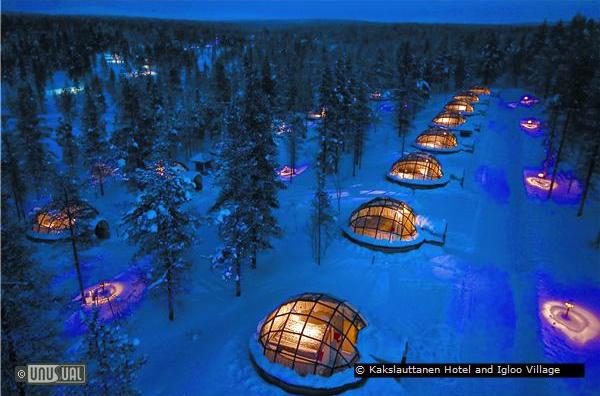 Hotel Kakslauttanen has unique Glass and Snow Igloos and the World's largest snow restaurant. Located in Finnish Lapland, 250 km north of the arctic circle, guests can sleep in the peace of the snow and watch the Northern Lights in the warm comfort.
Attrap Rêves Hotel in France
Ever want to feel like a hamster?  The rooms of the Attrap Rêves are transparent pods that let you literally sleep under the stars  Designed by French artist Pierre Stéphane, the idea was to give "campers an eco-friendly space so they could explore without leaving a negative impact."  The sphere measures 13 feet in diameter and comes in completely transparent designs or semi-opaque for a bit more privacy.
Dog Bark Park Inn is a bed bed & breakfast guesthouse inside the World's Biggest Beagle. Guests enter the body of the beagle from a private 2nd story deck. Some of the dog's decorative furnishings are carvings by Dog Bark Park chainsaw artists Dennis & Frances.  Inside and up another level to the head of the dog is a loft room with additional sleeping space plus a cozy alcove in the muzzle.
The Prahan Hotel
The Prahan Hotel is in Melbourne, Australia  Cement pipes have been converted into dining booths that give a striking circular view of the street below.  Designed by Techné Architects, the use of wood and mood lighting helps soften the harshness of the concrete to give a more welcoming feeling.
The Jailhotel is located in the core of Lucerne, right in centre of the Old Town, and is a great budget choice for visitors. This former prison was built in 1862 and the cells/rooms still retain their original feel due to the thick walls, solid doors and barred windows. Private bathrooms are small but adequate with a shower.
Sleepbox Hotel
Sleepbox hotels started with a small implementation in an airport for weary travelers.  It was a quick place for a tired person to have somewhere to sleep during layovers or waiting for flights. Now, the same team of architects have created an effective looking hotel filled with Sleepboxes. Each one contains a bed, a lamp and sockets to charge phones. The upper floors of the hotel are filled with regular rooms in case you want to upgrade.
Bambu Indah
Bambu Indah, a luxurious hotel in Ubud, Indonesia and boasts a wide-range of vacation homes carefully crafted by designers and Bali-natives John and Cynthia Hardy.  This one was is made out of teak wood and has one of the best features which is the glass-bottomed floors.
Asakusa Capsule Hotel
Space is limited in the city of Tokyo and this hotel makes as much use of it as they can. It may not just be tourists using the convenient slots for the night, with prices starting at $25, a night in the capsule may be a better alternative to the 2 hour commute that many Tokyo workers face each day. There's also a ladies only floor in case women don't want creepy dudes peaking into their capsule.
Finally, this hotel has a rather "artistic" concept with rooms that include flying beds and upside down furniture. German artist Lars Stroschen has created a hotel that is a "living work of art" which also features sleeping in a coffin or a recreated dungeon.  It's not your usual tourist attraction, but it will surely be the one you remember.
Comments