Bernie Lost Once He Embraced His Inner BernieBro

Now that Hillary Clinton has reached the threshold of required delegates for the Democratic nomination, many will perform the autopsy on his campaign, in other words, what Bernie did right and what went wrong.  I think it's pretty simple, he lost the race when he decided to embrace his inner BernieBro.  In case you haven't heard, a BernieBro is someone who harasses and trolls anyone that doesn't support the man who had a clear endorsement by the spirit in the sky via "the bird".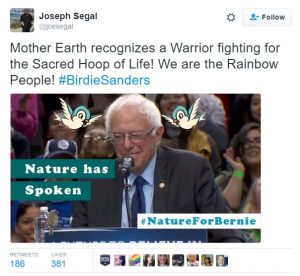 So when did Bernie embrace this way of life?  I would say the obvious turning point was the New York primary. He had been using more subtle attacks against Hillary's character, but when he screwed up the interview with New York Daily News, he went over the edge.  Heading into New York, Bernie felt the pressure of the entire election riding on his back.  He needed a big win and wanted to score a large enough victory to reduce Clinton's lead so that the Super Delegates would see he was the one with momentum.  However, the pressure wasn't enough for Bernie to do his homework and he sounded ill-prepared and uninformed when interviewed on his own platform.
CNN concluded after speaking to multiple insiders, "Sanders' difficulty in providing direct answers to some questions reinforced their belief that he lacks a concrete plan to implement his domestic agenda and is ill-prepared to handle the global challenges he would face as president."  In addition, the Washington Post produced this descriptive headline, " This New York Daily News interview was pretty close to a disaster for Bernie Sanders". However, it wasn't this WaPo headline that did Bernie in, it was this article, "Clinton questions whether Sanders is qualified to be President".  However, here is where Sanders' disdain for doing his homework got the better of him. As media matters points out, Hillary never said Sanders was "not qualified", in fact after repeated attempts by Joe Scarborough, she refused to characterize him this way, but facts don't matter to a BernieBro.
Even after it was brought to Bernie's attention that she never said Bernie was not qualified, he defended his remarks. In fact, it took him a while to admit that he read the headline from WaPo and didn't bother to read the article.  The mood changed among his own supporters after this.  People were getting tired of the bullying and inability to have a sane conversation with Bernie's more ardent supporters, now it seemed like this wasn't just a few overly obsessive fans but behavior coming from the candidate himself.  In fact, it just kept going downhill after this.
The cries of a rigged election were constant and anyone that didn't support Bernie was part of the Establishment. The convoluted math that explained how Bernie would win was incoherent and hard to follow.  And finally, the hypocrisy of Bernie complaining all season about the Superdelegates, and now hoping they would be the ones to deliver the nomination to him despite the will of the people, was just too much to handle.  How ironic that a campaign complaining about a rigged election was actually begging for the Establishment to rig it for him.  How could a reasonable person support what was becoming a downward spiral of embarrassing delusion?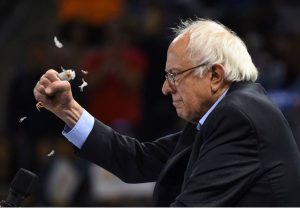 Well, it's over now regardless of what Bernie's team is struggling to convey.  It's time to join together for the big fight which is still ahead of us.  Bernie's supporters don't have to "choose the lesser of two evils" because Hillary was never evil in the first place.  This was all part of the political game.  Bernie needed his supporters to see her as a villain and think he was the hero they've been waiting for but that's just theater.  If they stop reading and circulating right wing blogs about the Clintons and read up on the facts, they might actually find things in common.  Perhaps it's too early and the loss is too raw, but soon it will be crystal clear.  President Trump is not an option anyone wants to entertain, but more on that once everyone has had a chance to breathe.
Comments